The two-day basketball tournament, which was organized on Friday and Saturday (July 21 and 22) as part of this year's edition of the PRO 3×3 Tour, a series of international spectacular tournaments in 3×3 basketball ("3 on 3 players"), ended with the final matches in the senior and junior competitions, held on the court set up on Zivt Square (Zivtov trg) in the center of Zabok.
The tournament in Zabok was the seventh in a row within the PRO 3×3 Tour 2023, which takes place in the period from May 20 to August 12, 2023. This competition in a beautiful town in Krapina-Zagorje County was the premier presentation of a new Olympic sport in Hrvatsko Zagorje region. In the strong competition in the main Senior Elite category, the title of winner went to the players of the Croatian 3×3 national team who performed under the sponsor name The Old Cambio, and the team consisted of: Jure Gunjina, Željko Jović, Stipe Krstanović and Ivan Rašetina. In the battle for first place, they beat the Pharma Classic team with a score of 15:10 and won a valuable cash prize of 2,000 euros. The second-placed team received the amount of 800 euros, and the third place and a prize of 400 euros in the senior category was earned by the Zagreb DMB Produkt team. Before that, in the junior U-19 competition, the team of KK Borik Bjelovar won, which in the final match was better than the home team of KK Zabok.
Again, the accompanying part was rich in content, especially in the entertainment and educational part. As in the previous tournament, held the weekend before in Zagreb, a special promotion of the new mobile application and interactive poster of this year's Tour was organized. For this purpose, a knowledge quiz on 3×3 basketball was organized both evenings, and the best experts won valuable prizes from sponsors and donors. In addition, during both days of the tournament, many younger and older spectators tried their hand at shooting doubles and free throws and other games between basketball matches, and the best were also rewarded. On the second day (Saturday) in the afternoon, traditional Kids Day was organized, as part of which educational workshops were held on the basics and rules of 3×3 basketball, competition in shooting doubles and free throws, mutual trials on a real 3×3 playground and more. The entire program was briefly interrupted by rain on several occasions during both days, but the organizers and hosts successfully overcame this and proved that there is a real strong basketball spirit in Zabok.
"This is the second season of the PRO 3×3 Tour and now we presented ourselves for the first time in Hrvatsko Zagorje region, which turned out to be a great success. Excellent cooperation with local partners and sponsors and a great response from the audience showed that Zabok and Hrvatsko Zagorje are fertile ground for further development and promotion of 3×3 basketball as a dynamic, interesting and attractive sport. I am especially happy about that as a man who just started his personal and business journey from Zabok. The weather conditions did not really go our way, but we managed to realize everything according to the planned schedule, for which I congratulate the entire organizational team. I thank the City of Zabok, the Tourist Board of Krapina-Zagorje County and the Tourist Board of the Srce Zagorja area, and especially the enthusiasts and basketball lovers from the KK Zabok and KK Ksaver clubs", said a satisfied Ivan Paić, president of the Organizing Committee of the PRO 3×3 Tour 2023.
As a reminder, the second season of the PRO 3×3 Tour is held at top locations in 10 cities across Croatia, and the grand final tournament will be organized in the old city center on August 11 and 12 in Šibenik. This year's edition of the Tour continues already next weekend, and the next host on July 28 and 29, 2023 will be the beautiful town in Požega-Slavonia County – Lipik.
The PRO 3×3 Tour is organized by the PRO 3×3 Association (Udruga PRO 3×3) , with the support of the Croatian Tourist Board, the Ministry of Tourism and Sports of the Republic of Croatia and the company Energy Basket d.o.o. Sponsors are HEP, Jamnica ProSport, Jana Sport, Bigraf, Hell and Lenovo. Media sponsors and partners are Sportklub, Sportnet.hr and Pixsell Photo & Video Agency. Partners in the organization of the tournament in Zabok were the City of Zabok, the Tourist Board of Krapina-Zagorje County, the Tourist Board of the Srce Zagorja area, the Basketball Club Zabok and the Basketball Club Ksaver.
More detailed information about this year's Tour and the tournament in Zabok can be found on the official website https://pro3x3.hr/ and on the Tour's social networks.
See you soon in Lipik!
#budiPRO
#budidioprice
#smallcourtbigdreams
#croatiafulloflife
#HEP
Finalnim dvobojima u seniorskoj i juniorskoj konkurenciji, održanima na igralištu postavljenom na Zivtovom trgu u središtu Zaboka, završen je dvodnevni košarkaški turnir koji je u petak i subotu (21. i 22. srpnja) organiziran u sklopu ovogodišnjeg izdanja  PRO 3×3 Toura, serije međunarodnih spektakularnih turnira u 3×3 košarci ("3 na 3 igrača").
Turnir u Zaboku bio je sedmi po redu u okviru PRO 3×3 Toura 2023. koji se održava u razdoblju od 20. svibnja do 12. kolovoza 2023. Ovo nadmetanje u lijepom gradu u Krapinsko-zagorskoj županiji bilo je premijerno predstavljanje novog olimpijskog sporta u Hrvatskom zagorju. U jakoj konkurenciji u glavnoj Senior Elite kategoriji titulu pobjednika na kraju su odnijeli igrači hrvatske 3×3 reprezentacije koji su nastupili pod sponzorskim imenom The Old Cambio, a ekipu su činili: Jure Gunjina, Željko Jović, Stipe Krstanović i Ivan Rašetina. U borbi za prvo mjesto rezultatom 15:10 nadvisili su momčad Pharma Classic i osvojili vrijednu novčanu nagradu od 2.000 eura. Drugoplasiranoj ekipi pripao je iznos od 800 eura, a treće mjesto i nagradu od 400 eura u seniorskoj kategoriji zaslužila je ekipa Zagreb DMB Produkt. Prije toga u juniorskoj U-19 konkurenciji pobijedila je ekipa KK Borik Bjelovar koja je u završnom dvoboju bila bolja od domaće momčadi KK Zabok.
Ponovno je sadržajno bogat bio i popratni dio, posebice u zabavnom i edukativnom dijelu. Kao i na prethodnom turniru, održanom vikend prije u Zagrebu, organizirana je posebna promocija nove mobilne aplikacije i interaktivnog plakata ovogodišnjeg Toura. U tu svrhu obje je večeri bio organiziran kviz znanja o 3×3 košarci, a najveći znalci osvojili su vrijedne nagrade sponzora i donatora. Osim toga, mnogi mlađi i stariji gledatelji tijekom oba dana turnira su se između utakmica okušali u šutiranju dvica i slobodnih bacanja te drugim igrama, a najbolji su također nagrađeni. Drugoga dana (subota) u poslijepodnevnim satima organiziran je i već tradicionalni Kids Day, u sklopu kojega su održane edukativne radionice o osnovama i pravilima 3×3 košarke, natjecanja u šutiranju dvica i slobodnih bacanja, međusobni ogledi na pravom 3×3 igralištu i drugo. Valja naglasiti kako je cijeli program tijekom oba dana u više navrata nakratko prekidala kiša, ali organizatori i domaćini i to su uspješno nadvladali te dokazali kako u Zaboku vlada pravi snažni košarkaški duh.   
"Ovo je druga sezona PRO 3×3 Toura i sada smo se prvi put predstavili u Hrvatskom zagorju, što se pokazalo kao pun pogodak. Izvrsna suradnja s lokalnim partnerima i sponzorima te velik odaziv publike pokazali su kako su Zabok i Hrvatsko zagorje plodno tlo za dalji razvoj i promociju 3×3 košarke kao dinamičnog, zanimljivog i atraktivnog sporta. Meni je to posebno drago kao čovjeku koji je upravo iz Zaboka krenuo na svoj privatni i poslovni put. Vremenske prilike nisu nam baš išle na ruku, ali uspjeli smo sve realizirati prema predviđenom rasporedu, na čemu čestitam cijeloj ekipi iz organizacije. Zahvaljujem Gradu Zaboku, Turističkoj zajednici Krapinsko-zagorske županije i Turističkoj zajednici područja Srce Zagorja, a posebno entuzijastima i košarkaškim zaljubljenicima iz klubova KK Zabok i KK Ksaver", naglasio je zadovoljni Ivan Paić, predsjednik Organizacijskog odbora PRO 3×3 Toura. 2023.
Podsjetimo, druga sezona PRO 3×3 Toura održava se na top lokacijama 10 gradova diljem Hrvatske, a veliki Završni turnir bit će organiziran u staroj gradskoj jezgri 11. i 12. kolovoza u Šibeniku. Ovogodišnje izdanje Toura nastavlja se već idućeg vikenda, a sljedeći domaćin 28. i 29. srpnja 2023. bit će lijep grad u Požeško-slavonskoj županiji – Lipik.
PRO 3×3 Tour organizira Udruga PRO 3×3, uz potporu Hrvatske turističke zajednice, Ministarstva turizma i sporta Republike Hrvatske te tvrtke Energy Basket d.o.o. Sponzori su HEP, Jamnica ProSport, Jana Sport, Bigraf, Hell i Lenovo. Medijski pokrovitelji i partneri su Sportklub, Sportnet.hr i Pixsell Photo & Video Agency. Partneri u organizaciji turnira u Zaboku bili su Grad Zabok, Turistička zajednica Krapinsko-zagorske županije, Turistička zajednica područja Srce Zagorja, Košarkaški klub Zabok i Košarkaški klub Ksaver. 
Detaljnije informacije o ovogodišnjem Touru i turniru u Zaboku mogu se pronaći na službenoj internetskoj stranici https://pro3x3.hr/ te na društvenim mrežama Toura.
Vidimo se uskoro u Lipiku!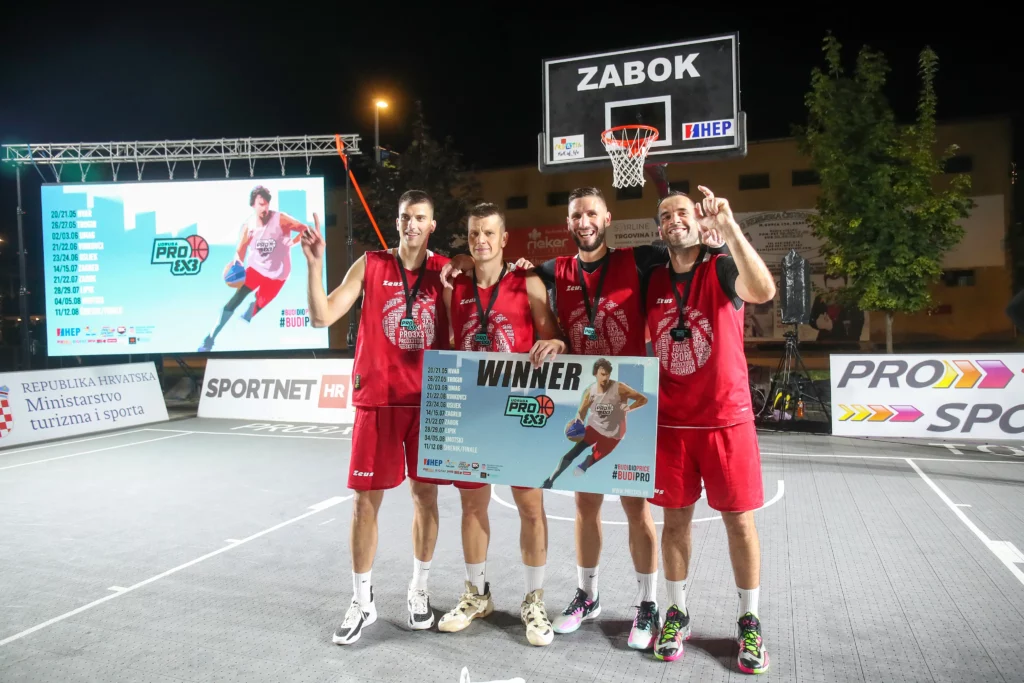 PRO 3x3 ZABOK/ 21.07.2023
PRO 3x3 ZABOK/ 22.07.2023
#budiPRO

#budidioprice

#smallcourtbigdreams

#croatiafulloflife

#HEP