The 3×3 Prnjavor team from Bosnia and Herzegovina won the two-day basketball tournament, which was organized on Friday and Saturday (July 28 and 29), on the playground set up on the iconic basketball court of the Children's Home in Lipik, as part of the PRO 3×3 Tour 2023, a series of international spectacular tournaments in 3×3 basketball ("3 on 3 players").
Thus, 3×3 Prnjavor automatically became the eighth participant in the big Final Tournament of this year's edition of the PRO 3×3 Tour, which will be held on August 11 and 12, 2023 in the center of Šibenik. Namely, the tournament in Lipik was the eighth in a row within the second season of the PRO 3×3 Tour, which is organized in the period from May 20 to August 12, 2023, at attractive locations in 10 Croatian cities.
Lipik is a city that has a long tradition of playing and organizing street basketball tournaments, but this is the first time that the PRO 3×3 Tour caravan visited this beautiful city in the Požega-Slavonia County. In an exciting and uncertain final match in the main Senior Elite category, played on the evening of July 29 under the floodlights, the 3×3 Prnjavor team managed to defeat the Aluplastik Živinice team, also from Bosnia and Herzegovina, with a minimum score of 19:18. In addition to the title of winner and a place in the Final Tournament, they also earned a valuable cash prize of 2,000 euros, new FIBA points and a special Dražen Petrović Trophy. This trophy, named after the legendary Croatian basketball player, has been awarded to the winners of the 3×3 tournament in Lipik since 2008, with the approval of the Petrović family. Dejan Lazić, Marko Slijepčević, Nemanja Stanković and Srđan Tešić played for the winning team. The second place team received the amount of 800 euros, and the third place and a prize of 400 euros in the senior competition was won by the Zagreb 3BL team. Before that, in the junior U-19 category, the Crveni U17 team won, which in the final match was better than the Bijeli U17 team. Both teams were made up of potential Croatian cadet U-17 national team members, for whom the tournament in Lipik was a kind of selective competition for a place in the national team. Vinko Kasana, the mayor of Lipik, presented all prizes and recognitions to the best teams, together with the representatives of the organizers.
Along with interesting competitions in 3×3 basketball, many accompanying entertainment and educational contents were organized during both days of the tournament. In the show program, the majorets from the city of Lipik performed, and again the presentation of the mobile application and interactive poster of this year's Tour, as well as the award-winning interactive knowledge quiz about 3×3 basketball, were organized. In addition, many younger and older spectators participated in raffle games, shooting dribbles and free throws, and the best ones also won promotional products and gifts from sponsors and donors. On the second day (July 29) in the afternoon, the already traditional Kids Day was organized, as part of which educational workshops were held on the basics and rules of 3×3 basketball, competition in shooting doubles and free throws, mutual trials on a real 3×3 playground and more. The special feature of the tournament in Lipik was the award presentation to the best athlete of the city of Lipik in 2022, which, according to the selection of the monthly magazine Compas, was the young bowler Domagoj Tušim.
Ivan Paić, president of the Organizing Committee of the PRO 3×3 Tour 2023, was extremely satisfied with the tournament held in the very west of Slavonia, and especially with the excellent hospitality and great response and support of the Lipik audience. "In this, the second season of the PRO 3×3 Tour, we came to Slavonia again after two stops in Zagreb and Zabok, now in Lipik, a city that has been living 3×3 basketball to the fullest for years. In addition to the typical Slavonian hospitality, cordiality and kindness, we were also welcomed in Lipik by a wonderful audience in which I recognized many smiling faces that I have known since long ago in 2001, when I refereed the now famous Streetball Lipik tournament for the first time with my colleague Tomislav Prpić. later grew into the world famous FIBA 3×3 Challenger. Since 2017, when I became an international FIBA referee right here in Lipik, I have had the honor of refereeing several times at the Lipik Challenger against some of the best world teams in the history of this sport. Therefore, this wonderful city evokes many beautiful memories every time I come here, and I am especially pleased that, in cooperation with the local community, the Youth Association and great enthusiasts led by Mr. Ivan Pušćenik, who have had 3×3 basketball in their blood for years, we have organized one of stop of our PRO 3×3 Tour 2023 right on the legendary playground of the Children's Home in Lipik. With this, we continued the rich tradition of top 3×3 basketball and once again awarded the Dražen Petrović Trophy to the winners of the tournament. As in all previous years, it has been shown again and again that Lipik has not only a large and loud audience, but also an audience that loves and understands 3×3 basketball. Therefore, I have no doubt that we will come to Lipik again next year. Special thanks to the hosts and partners from the City of Lipik and the Tourist Board of the City of Lipik, the Tourist Board of the Požega-Slavonia County and the Center for Providing Services in the Lipik Community, as well as all local sponsors and donors for the excellent logistics and help in the organization," emphasized Ivan Paić.
This year's edition of the Tour continues next weekend with the ninth and last selection tournament of this year's PRO 3×3 Tour. Its host on August 4 and 5, 2023 will be the beautiful city of Split-Dalmatia County – Imotski.
The PRO 3×3 Tour is organized by the PRO 3×3 Association (Udruga PRO 3×3), with the support of the Croatian Tourist Board, the Ministry of Tourism and Sports of the Republic of Croatia and the company Energy Basket d.o.o. Sponsors are HEP, Jamnica ProSport, Jana Sport, Bigraf, Hell and Lenovo. Media sponsors and partners are Sportklub, Sportnet.hr and Pixsell Photo & Video Agency. The partners in the organization of the tournament in Lipik were the City of Lipik, the Tourist Board of the City of Lipik, the Tourist Board of Požega-Slavonia County and the Center for Providing Services in the Lipik Community.
You can find more detailed information about this year's Tour and the tournament in Lipik on the official website https://pro3x3.hr/ and on the Tour's social networks.
See you in Imotski!
#budiPRO
#budidioprice
#smallcourtbigdreams
#croatiafulloflife
#HEP
Momčad 3×3 Prnjavor iz Bosne i Hercegovine osvojila je dvodnevni košarkaški turnir koji je u petak i subotu (28. i 29. srpnja), na igralištu postavljenom na kultnom košarkaškom terenu dječjeg Doma u Lipiku, organiziran u sklopu PRO 3×3 Toura 2023., serije međunarodnih spektakularnih turnira u 3×3 košarci ("3 na 3 igrača").
Time je 3×3 Prnjavor automatski postao osmi sudionik velikog Završnog turnira ovogodišnjeg izdanja PRO 3×3 Toura koji će 11. i 12. kolovoza 2023. biti održan u središtu Šibenika. Naime, turnir u Lipiku bio je osmi po redu u okviru druge sezone PRO 3×3 Toura koja se u razdoblju od 20. svibnja do 12. kolovoza 2023. organizira na atraktivnim lokacijama 10 hrvatskih gradova.  
Lipik je grad koji ima dugogodišnju tradiciju igranja i organiziranja turnira ulične košarke, ali ovo je prvi put da je PRO 3×3 Tour karavana gostovala u ovom lijepom gradu u Požeško-slavonskoj županiji. U uzbudljivoj i neizvjesnoj finalnoj utakmici u glavnoj Senior Elite kategoriji, odigranoj 29. srpnja navečer pod svjetlima reflektora, ekipa 3×3 Prnjavor uspjela je minimalnim rezultatom 19:18 svladati ekipu Aluplastik Živinice, također iz Bosne i Hercegovine. Osim titule pobjednika i mjesta na Završnom turniru, time su zaslužili i vrijednu novčanu nagradu od 2.000 eura, nove FIBA bodove te poseban Trofej Dražena Petrovića. Ovaj se trofej, nazvan po legendarnom hrvatskom košarkaškom velikanu, u Lipiku još od 2008. godine dodjeljuje pobjednicima 3×3 turnira, uz odobrenje obitelji Petrović. Pobjednička ekipa nastupila je u sastavu: Dejan Lazić, Marko Slijepčević, Nemanja Stanković i Srđan Tešić. Drugoplasiranoj ekipi pripao je iznos od 800 eura, a treće mjesto i nagradu od 400 eura u seniorskoj konkurenciji osvojila je ekipa Zagreb 3BL. Prije toga u juniorskoj U-19 kategoriji pobijedila je ekipa Crveni U17 koja je u završnom dvoboju bila bolja od momčadi Bijeli U17. Obje su ekipe činili potencijalni hrvatski kadetski U-17 reprezentativci kojima je turnir u Lipiku bilo svojevrsno izlučno natjecanje za mjesto u reprezentaciji. Sve nagrade i priznanja, zajedno s predstavnicima organizatora, najboljim je ekipama uručio Vinko Kasana, gradonačelnik Lipika. 
Uz zanimljiva nadmetanja u 3×3 košarci tijekom oba dana turnira organizirano je i mnogo popratnih zabavnih i edukativnih sadržaja. U show programu nastupile su Mažoretkinje grada Lipika, a ponovno su organizirani predstavljanje mobilne aplikacije i interaktivnog plakata ovogodišnjeg Toura te nagradni interaktivni kviz znanja o 3×3 košarci. Osim toga, mnogi mlađi i stariji gledatelji sudjelovali su u nagradnim igrama, šutiranju dvica i slobodnih bacanja, a najbolji su također osvojili promotivne proizvode i poklone sponzora i donatora. Drugoga dana (subota) u poslijepodnevnim satima organiziran je i već tradicionalni Kids Day, u sklopu kojega su održane edukativne radionice o osnovama i pravilima 3×3 košarke, natjecanja u šutiranju dvica i slobodnih bacanja, međusobni ogledi na pravom 3×3 igralištu i drugo. Posebnost turnira u Lipiku bila je dodjela nagrade najboljem sportašu grada Lipika u 2022. godini, a to je, prema izboru mjesečnika Compas, bio mladi kuglač Domagoj Tušim.
Ivan Paić, predsjednik Organizacijskog odbora PRO 3×3 Toura 2023., bio je iznimno zadovoljan turnirom održanim na samom zapadu Slavonije, a osobito izvrsnim gostoprimstvom te velikim odazivom i potporom lipičke publike. "U ovoj, drugoj sezoni PRO 3×3 Toura u Slavoniju smo došli ponovno nakon dvije stanice u Zagrebu i Zaboku, sada u Lipik, grad koji već godinama živi 3×3 košarku punim plućima. Uz tipičnu slavonsku gostoljubivost, srdačnost i ljubaznost, u Lipiku nas je dočekala i prekrasna publika u kojoj sam prepoznao mnoga nasmijana lica koja znam još od davne 2001. godine kada sam po prvi puta sa svojim kolegom Tomislavom Prpićem sudio sada već slavni Streetball Lipik turnir koji je kasnije izrastao u svjetski poznati FIBA 3×3 Challenger. Od 2017. godine, kada sam postao međunarodni FIBA sudac upravo ovdje u Lipiku, imao sam nekoliko puta čast suditi na Lipik Challengeru nekim od najboljih svjetskih ekipa u povijesti ovog sporta. Stoga ovaj divni grad budi mnoge prelijepe uspomene svaki put kada dođem ovdje i posebno mi je zadovoljstvo što smo u suradnji s lokalnom zajednicom, Udrugom mladih i velikim entuzijastima na čelu sa gospodinom Ivanom Pušćenikom, kojima je 3×3 košarka već godinama u krvi, organizirali jednu od stanica našeg PRO 3×3 Toura 2023. upravo na legendarnom igralištu dječjeg Doma u Lipiku. Time smo nastavili bogatu tradiciju vrhunske 3×3 košarke te ponovno dodijelili Trofej Dražena Petrovića pobjednicima turnira. Kao i svih godina do sada, iznova se pokazalo da Lipik ima ne samo brojnu i glasnu publiku, već i publiku koja voli i razumije 3×3 košarku. Stoga ne sumnjam da ćemo u Lipik ponovno doći već iduće godine. Posebno zahvaljujem domaćinima i partnerima iz Grada Lipika te Turističkoj zajednici grada Lipika, Turističkoj zajednici Požeško-slavonske županije i Centru za pružanje usluga u zajednici Lipik, kao i svim lokalnim sponzorima i donatorima na odličnoj logistici i pomoći u organizaciji" naglasio je Ivan Paić.
Ovogodišnje izdanje Toura nastavlja se već idućeg vikenda devetim i zadnjim izlučnim turnirom ovogodišnjeg PRO 3×3 Toura, a njegov domaćin 4. i 5. kolovoza 2023. bit će lijep grad u Splitsko-dalmatinskoj županiji – Imotski.
PRO 3×3 Tour organizira Udruga PRO 3×3, uz potporu Hrvatske turističke zajednice, Ministarstva turizma i sporta Republike Hrvatske te tvrtke Energy Basket d.o.o. Sponzori su HEP, Jamnica ProSport, Jana Sport, Bigraf, Hell i Lenovo. Medijski pokrovitelji i partneri su Sportklub, Sportnet.hr i Pixsell Photo & Video Agency. Partneri u organizaciji turnira u Lipiku bili su Grad Lipik, Turistička zajednica grada Lipika, Turistička zajednica Požeško-slavonske županije i Centar za pružanje usluga u zajednici Lipik. 
Detaljnije informacije o ovogodišnjem Touru i turniru u Lipiku možete pronaći na službenoj internetskoj stranici https://pro3x3.hr/ te na društvenim mrežama Toura.
Vidimo se u Imotskom!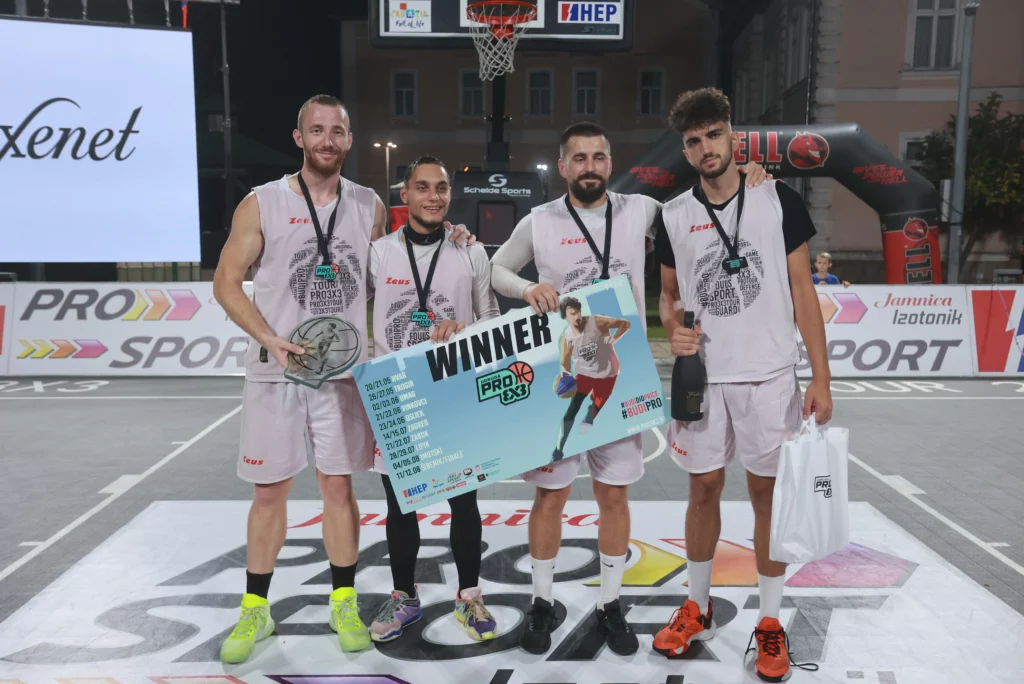 PRO 3x3 LIPIK / 28.07.2023
PRO 3x3 LIPIK / 29.07.2023
#budiPRO

#budidioprice

#smallcourtbigdreams

#croatiafulloflife

#HEP