Last weekend, from August 4 to 6 (from Friday to Sunday), a real three-day 3×3 basketball holiday was organized on the famous basketball court in the Sports and Recreation Center "Joško Novović – Tuta" in Imotski. Namely, the center of Imotska Krajina hosted the PRO 3×3 Tour 2023 – the 3rd "Joško Novović – Tuta" Memorial Basketball Tournament, and despite the unstable weather conditions, all three days were attended by a large and loud audience.
The first two days (Friday and Saturday, August 4 and 5) the ninth and last selection tournament of the second season of the PRO 3×3 Tour 2023, a series of international spectacular tournaments in 3×3 basketball ("3 on 3 players"), was held. In the period from May 20 to August 12, 2023, this year's Tour is organized in attractive locations in 10 Croatian cities. This competition in Imotski brought the greatest joy to the teams Sportsko Imotski (in the main Senior Elite competition) and Široka (in the junior U-19 competition), who won the last places in the big Final Tournament of this year's edition of the PRO 3×3 Tour, which will take place on the 11th and 12th August 2023 in the center of Šibenik.
This was the first time that the PRO 3×3 Tour caravan visited Imotski. The final match in the Senior Elite category, played on Saturday evening (August 5), was especially tense, in which the Sportko Imotski team managed to overcome the Pharma Classic team with a narrow score of 15:14 and win a cash prize of 2,000 euros. Experienced and well-known Croatian 3×3 basketball players played for the winning team: Željko Jović, Stanko Kujundžić, Mario Rajčić and Ivan Rašetina. The second-placed team received the amount of 800 euros, and the third place and a prize of 400 euros in the senior competition was once again won by the Zagreb 3BL team, as in the previous PRO 3×3 tournament in Zabok. Before that, in the junior U-19 category, the winning team Široki was more successful than the home team Imotski in the final match.
In addition to high-quality 3×3 basketball games, during both days of the tournament, those gathered could also enjoy accompanying entertainment and educational content, with an emphasis on prize games for shooting doubles and free throws. On the second day (Saturday, August 5) in the afternoon, the already traditional Kids Day was organized, as part of which educational workshops were held on the basics and rules of 3×3 basketball, as well as competition in shooting doubles and free throws.
On the third day of the rich basketball weekend in Imotski (on Sunday, August 6) in the early evening and evening hours, in cooperation with local organizers and partners, an amateur basketball tournament was held at the same location. This part of the program also offered interesting basketball trials. In the end, the Why not team celebrated, while the second and third places were won by the Hahari and Bleiburška teams.
Ivan Paić, the president of the Organizing Committee of the PRO 3×3 Tour 2023, is very satisfied with what took place during the past weekend in the center of Imotska Krajina. "This tournament in Imotski was special in many ways. On it, we got the last passengers to the big final tournament of the PRO 3×3 Tour 2023, which will be organized in the 'peak' of the summer tourist season at the attractive location of Trg Poljana, the main square in Šibenik. This gave this tournament additional charm and excitement, which was most evident in the uncertain semi-final trials and the tense final match. Furthermore, this PRO 3×3 tournament in Imotski included the famous 'Joško Novović Tuta' memorial basketball tournament, which is dedicated to the Croatian veteran who lost his life too early in the Homeland War. In this context, I would especially want to thank the members of his family who gave their support. So the daughter and son of Joško Novović Tuta, Ines and Filip, presented awards and recognition to the best teams in the U-19 and Elite categories on Saturday evening. In addition, the location and timing of the tournament were also special – on the iconic basketball court within the Sports and Recreation Center 'Joško Novović Tuta', on the weekend when August 5, the Day of Victory and Homeland Gratitude and the Day of Croatian Veterans, was celebrated throughout Croatia. All this contributed to the festive atmosphere when, on the evening of August 5 itself, before the final match in the Elite category, they played the national anthem of the Republic of Croatia, and the hosts organized a big torchlight as a surprise. And, finally, the special content was the organization of an additional, third day of the tournament on Sunday, that is, an amateur basketball tournament, in which local teams competed on our PRO 3×3 playground. On behalf of the organizers, I thank everyone, especially the hosts and local partners and co-organizers, for everything beautiful that we experienced in Imotski. Together, we managed to beat the rain on all three days, which interrupted the tournament on several occasions", said Ivan Paić.
This year's edition of the Tour will be concluded with a spectacular Grand Final, which will take place on Friday and Saturday, August 11 and 12, 2023, in Šibenik, the capital of Šibenik-Knin County.
The PRO 3×3 Tour is organized by the PRO 3×3 Association (Udruga PRO 3×3), with the support of the Croatian Tourist Board, the Ministry of Tourism and Sports of the Republic of Croatia and the company Energy Basket d.o.o. Sponsors are HEP, Jamnica ProSport, Jana Sport, Bigraf, Hell and Lenovo. Media sponsors and partners are Sportklub, Sportnet.hr and Pixsell Photo & Video Agency.
You can find more detailed information about this year's Tour and the tournament in Imotski on the official website https://pro3x3.hr/ and on the Tour's social networks.
See you in Šibenik!
#budiPRO
#budidioprice
#smallcourtbigdreams
#croatiafulloflife
#HEP
Protekloga vikenda, od 4. do 6. kolovoza (od petka do nedjelje), na poznatom košarkaškom terenu u Sportsko-rekreacijskom centru "Joško Novović – Tuta" u Imotskom, organiziran je pravi trodnevni 3×3 košarkaški praznik. Naime, središte Imotske krajine ugostilo je PRO 3×3 Tour 2023. – 3. Memorijalni košarkaški turnir "Joško Novović – Tuta", a unatoč nestabilnim vremenskim (ne)prilikama sva tri dana popratila je brojna i glasna publika.
Prva dva dana (petak i subota, 4. i 5. kolovoza) održan je deveti i zadnji izlučni turnir druge sezone PRO 3×3 Toura 2023., serije međunarodnih spektakularnih turnira u 3×3 košarci ("3 na 3 igrača"), koja se u razdoblju od 20. svibnja do 12. kolovoza 2023. organizira na atraktivnim lokacijama 10 hrvatskih gradova. Ovo je nadmetanje u Imotskom najveću radost donijelo momčadima Sportsko Imotski (u glavnoj Senior Elite konkurenciji) i Široki (u juniorskoj U-19 konkurenciji) koje su pobjedama u svojim kategorijama osigurale posljednja mjesta na velikom Završnom turniru ovogodišnjeg izdanja PRO 3×3 Toura koji će 11. i 12. kolovoza 2023. biti održan u središtu Šibenika.
Bio je ovo prvi put da je PRO 3×3 Tour karavana gostovala u Imotskom. Posebno napeta bila je finalna utakmica u Senior Elite kategoriji, odigrana u subotu navečer (5. kolovoza), u kojoj je ekipa Sportko Imotski tijesnim rezultatom 15:14 uspjela nadvisiti momčad Pharma Classic te osvojiti novčanu nagradu od 2.000 eura. Za pobjedničku ekipu igrali su iskusni i poznati hrvatski 3×3 košarkaši: Željko Jović, Stanko Kujundžić, Mario Rajčić i Ivan Rašetina. Drugoplasiranoj momčadi pripao je iznos od 800 eura, a treće mjesto i nagradu od 400 eura u seniorskoj konkurenciji ponovno je, kao i na prethodnom PRO 3×3 turniru u Zaboku, osvojila ekipa Zagreb 3BL. Prije toga u juniorskoj U-19 kategoriji pobjednička ekipa Široki u završnom dvoboju bila je uspješnija od domaće momčadi Imotski.
Osim kvalitetnih 3×3 košarkaških utakmica tijekom oba dana turnira okupljeni su mogli uživati i u popratnim zabavnim i edukativnim sadržajima, s naglaskom na nagradne igre šutiranja dvica i slobodnih bacanja. Drugoga dana (subota, 5. kolovoza) u poslijepodnevnim satima organiziran je i već tradicionalni Kids Day, u sklopu kojega su održane edukativne radionice o osnovama i pravilima 3×3 košarke te natjecanja u šutiranju dvica i slobodnih bacanja.
Trećega dana bogatog košarkaškog vikenda u Imotskom, u nedjelju, 6. kolovoza, u predvečernjim i večernjim satima, u suradnji s lokalnim organizatorima i partnerima, na istoj lokaciji održan je i amaterski košarkaški turnir. I ovaj je dio programa ponudio zanimljive košarkaške oglede. Na kraju je slavila ekipa Why not, dok su drugo i treće mjesto osvojile momčadi Hahari i Bleiburška.
Ivan Paić, predsjednik Organizacijskog odbora PRO 3×3 Toura 2023., jako je zadovoljan onime što se događalo tijekom protekloga vikenda u središtu Imotske krajine. "Ovaj turnir u Imotskom bio je po mnogo čemu poseban. Na njemu smo dobili zadnje putnike na veliki Završni turnir PRO 3×3 Toura 2023. koji će u 'špici' ljetne turističke sezone biti organiziran na atraktivnoj lokaciji Trga Poljana, glavnog trga u Šibeniku. To je ovom turniru dalo dodatni čar i uzbudljivost, što se najviše vidjelo u neizvjesnim polufinalnim ogledima i napetoj finalnoj utakmici. Nadalje, u ovaj je PRO 3×3 turnir u Imotskom uklopljen poznati Memorijalni košarkaški turnir 'Joško Novović Tuta' koji je posvećen hrvatskom branitelju koji je prerano izgubio život u Domovinskom ratu. U tom kontekstu posebno bih zahvalio članovima njegove obitelji koji su dali svoju potporu. Tako su kćerka i sin Joška Novovića Tute, Ines i Filip, u subotu navečer uručili nagrade i priznanja najboljim ekipama u U-19 i Elite kategoriji. Osim toga, posebni su bili i lokacija i termin održavanja turnira – na kultnom košarkaškom terenu u okviru Športsko-rekreacijskog centra 'Joško Novović Tuta', u vikendu kada se u cijeloj Hrvatskoj slavio 5. kolovoza, Dan pobjede i domovinske zahvalnosti te Dan hrvatskih branitelja. Sve je to doprinijelo svečanom ugođaju kada su na sam 5. kolovoza navečer, uoči finalne utakmice u Elite kategoriji, zasvirali himna Republike Hrvatske, a domaćini organizirali veliku bakljadu kao iznenađenje. I, na kraju, poseban je sadržaj bila organizacija i dodatnog, trećeg dana turnira u nedjelju, odnosno amaterskog košarkaškog turnira u sklopu kojeg su na našem PRO 3×3 igralištu snage odmjerile odigrale lokalne ekipe. U ime organizatora zahvaljujem svima, osobito domaćinima te lokalnim partnerima i suorganizatorima, na svemu lijepom što smo doživjeli u Imotskom. Svi zajedno smo sva tri dana uspjeli pobijediti kišu koja je u nekoliko navrata prekidala turnir", izjavio je Ivan Paić.        
Ovogodišnje izdanje Toura bit će zaključeno spektakularnim velikim finalom koje će se u petak i subotu, 11. i 12. kolovoza 2023., održati u glavnom gradu Šibensko-kninske županije – Šibeniku. 
PRO 3×3 Tour organizira Udruga PRO 3×3, uz potporu Hrvatske turističke zajednice, Ministarstva turizma i sporta Republike Hrvatske te tvrtke Energy Basket d.o.o. Sponzori su HEP, Jamnica ProSport, Jana Sport, Bigraf, Hell i Lenovo. Medijski pokrovitelji i partneri su Sportklub, Sportnet.hr i Pixsell Photo & Video Agency.
Detaljnije informacije o ovogodišnjem Touru i turniru u Imotskom možete pronaći na službenoj internetskoj stranici https://pro3x3.hr/ te na društvenim mrežama Toura.
Vidimo se u Šibeniku!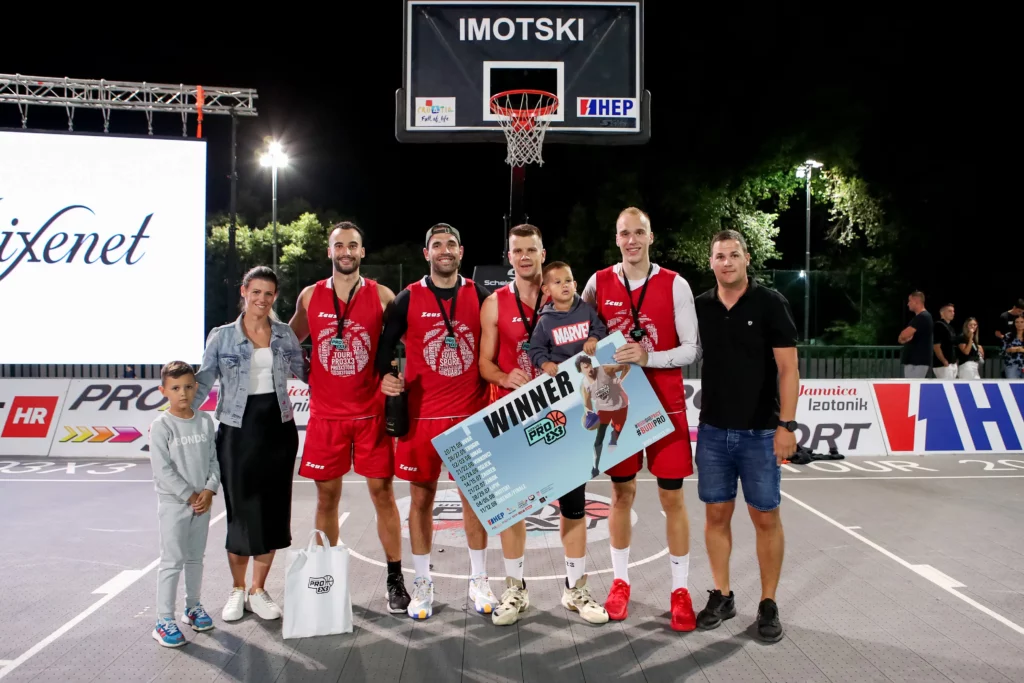 PRO 3x3 IMOTSKI / 04.08.2023
PRO 3x3 IMOTSKI / 05.08.2023
#budiPRO

#budidioprice

#smallcourtbigdreams

#croatiafulloflife

#HEP